This livingspace is rented out by
Verhuurtbeter.nl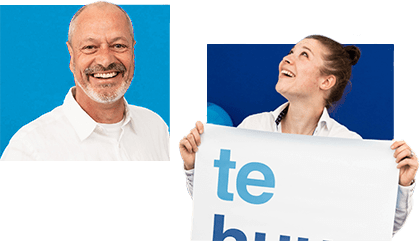 € 1.250

Rental price per month

97 m²
4 Rooms
19 September 2022
Apartment
Resale
A four-room apartment on location "Componistenbuurt-Zuid" in Alphen aan den Rijn
52.1442
4.67112
Alphen aan den Rijn
Alphen aan den Rijn
About the project
Located on the banks of the Oude Rijn River, you will find these two apartment buildings, 11 stories high, on the Valeriusplein in Alphen aan den Rijn. With as many as 160 rental apartments, both buildings offer a choice of three-room, four-room and five-room apartments. Suitable for the hardworking young professional, for young families and for large families looking for a spacious, versatile rental property near the city.
All apartments are equipped with a storage room on the first floor and there are 14 garage boxes available. Public parking spaces can be found at the front of the building - good for your own use, but also convenient for receiving friends, family and other visitors.
Surroundings
The Valeriusplein is only 10 minutes by bike from the city center of Alphen aan den Rijn and the central train station. This city is located in the well-known Green Heart and is easily accessible. Alphen aan den Rijn is surrounded by Leiden, Zoetermeer, Gouda and Woerden, but residents can easily reach all leading cities in the Randstad via public transport or via the various highways (A4 and A12). You are only 30 minutes away from Amsterdam, The Hague, Utrecht and Rotterdam. Now that's a central location!
For daily shopping, the houses are located next to Ridderhof shopping center with several supermarkets, drugstores and other stores.  
Choice of three-room, four-room and five-room apartments:
Only 10 minutes by bike or car away from the city center
Shopping center within walking distance
Hospital a few minutes away
Ample parking in the neighborhood
Apartments
All apartments are equipped with a spacious living and dining area. This space is further enhanced by the two French doors with walk-through to the master bedroom. This master bedroom contains an adjacent balcony with views of the surroundings. From both the hall and the master bedroom you reach the bathroom. Equipped with a toilet (second guest toilet found in the hall) and space for a shower bath. The kitchen is fully equipped.
All homes have a storage room in the living room and a separate personal storage room on the first floor.
About this type of property
The four-room flat increases the living area with an extra spacious third bedroom. This bedroom is of similar size as the master bedroom and contains connection to a washbasin. A great place for growing children who are looking to their own place. Again, the bathroom is accessible from both the hallway and the master bedroom.
Three spacious bedrooms
Third bedroom with connection to washbasin
Balcony with view over the area
Spacious living room with storage room
Two toilets
Renovation
Safety work
Kitchen
Bathroom
Toilet
Wall finish
Floor
General repairs
Technical installations
Wanneer u kan komen kijken
Verhaal over bezichtiging, de keuze voor het soort kijkmoment maakt Verhuurtbeter.nl. De wensen van de kandidaten staan hierbij centraal. een Openbaar Open Huis; Deze kijkmomenten zijn zichtbaar op onze website. Een Premium Open Huis; alleen voor kandidaten die reeds een betaalde aanmelding hebben en die voldoen aan de voorwaarden. Kandidaten ontvangen een uitnodiging zodra het kijkmoment.
Share:
Characteristics
Address
Valeriusplein 66
2402 TM Alphen aan den Rijn
Type of construction
Resale
Number of bedrooms
3 bedrooms
Number of bathrooms
1 bathroom and a separate toilet
Balkon
8 m² located on the south
Specifics
Availabilty
19 September 2022
Service costs
€ 170
Stookkosten algemene ruimtes
Elektra- en waterverbruik algemene ruimtes + technische installaties
Stookkosten woning
Warmwatervoorziening woning
Waterverbruik woning
Schoonmaak + glasbewassing algemene ruimte + voor bewoners niet bereikbare delen + vervangen lampen/starters
Groenonderhoud + ongediertebestrijding
Serviceabonnement CV-MV en WTW installatie
Serviceabonnement liftinstallatie + telefoonkosten
Onderhoud belinstallaties, deuropeners en huistelefoon
Ontstoppingscontract riolering
Reinigen / ontstoppen (dak)goten
Huismeester + bijbehorende diensten
Glasverzekering buitenglas
2x per jaar vervangen van de filters
Administratiekosten
Utilities (to be arranged by yourself)
What is the basic rental price p/m?
Required (gross) monthly income (1 person)
What is your (gross) monthly income?
Required (gross) monthly income (2nd person)
You must earn this together