Come visit us every Friday from 12:00 to 14:00 by appointment
Curious and would you like to take a look at the apartments? Then contact the service managers at 088-3081091 to schedule a personal appointment.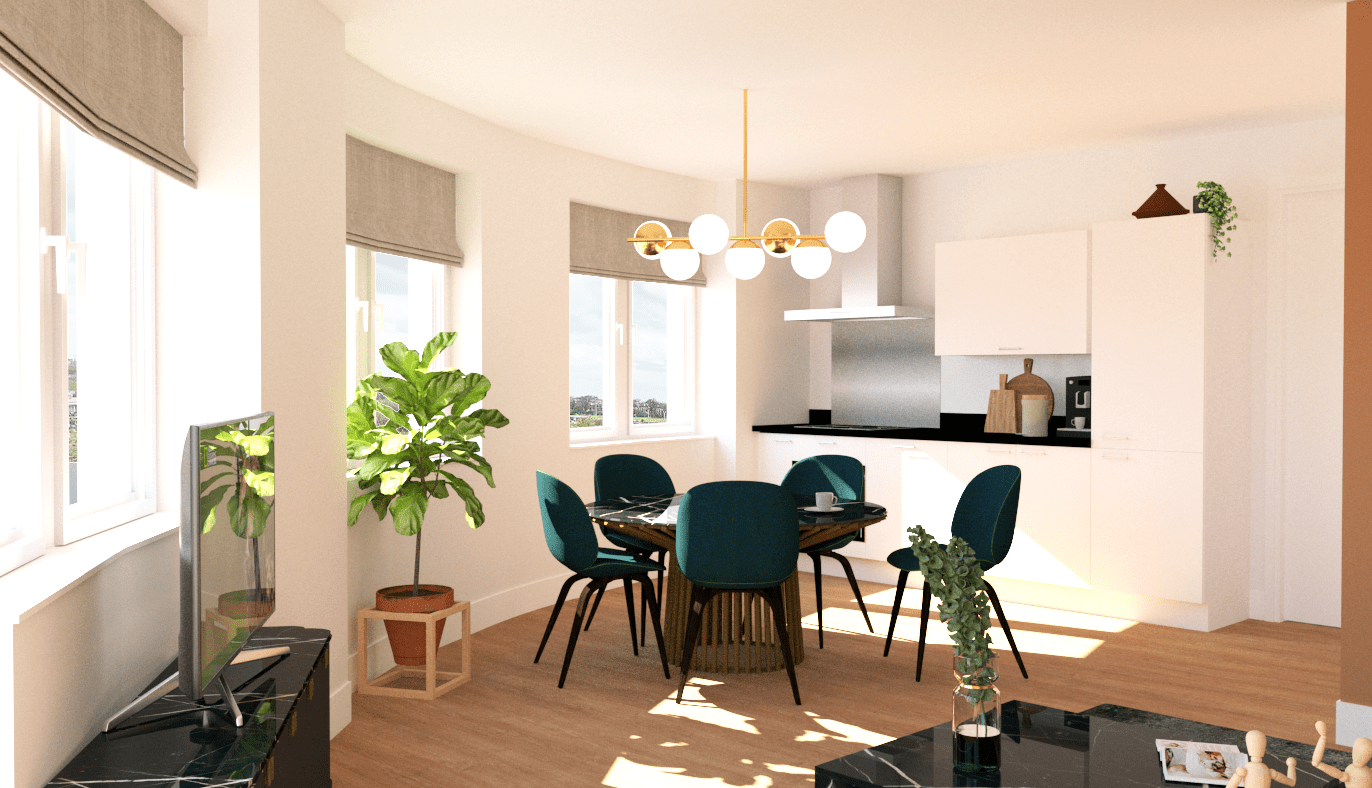 Two Beautiful Apartment Towers in the Heart of Voorburg
The Kleine en Grote Feith are located in the hart of Voorburg, and near the city center of The Hague. You will be living in one of the 95 spacious one or two bedroom apartments. The living space varies between 63 and 106 m2, and has a luxury kitchen equipped with Siemens appliances, a quality finished bathroom, and a large balcony. High ceilings and large windows ensure that there's an abundance of light in your comfortable living room.
Consequently, you can enjoy the large community garden which was inspired by the Noteboompark directly next to the Grote and Kleine Feith. As a resident of the Burgemeester Feithplein you will be living in a modern, stylish and comfortable apartment tower in a green park-like setting.
Enjoy the charm of a characteristic building combined with modern comfort
The Kleine and the Grote Feith are both ideally located in Voorburg. The apartment towers are within close walking distance of the Julianabaan shopping center and the Noteboompark. Every imaginable service is within reach. In close proximity you will find a swimming pool, museum, drama, choral, film and photo clubs as well as a cooking studio and a variety of sport clubs. The Grote and the Kleine Feith even host a large theater.
Green and Free of Natural Gas
New insulated facades and 124 Solar Panels ensure that the apartment towers are sustainable and future-proof. The apartments are natural gas free and the heat pumps replace the original natural gas connections.

De Kleine and Grote Feith
Burgemeester Feithplein in Voorburg

€ 1.160 – € 1.495
Prices Grote Feith

63 – 106 m2
Living area

2 – 3
Rooms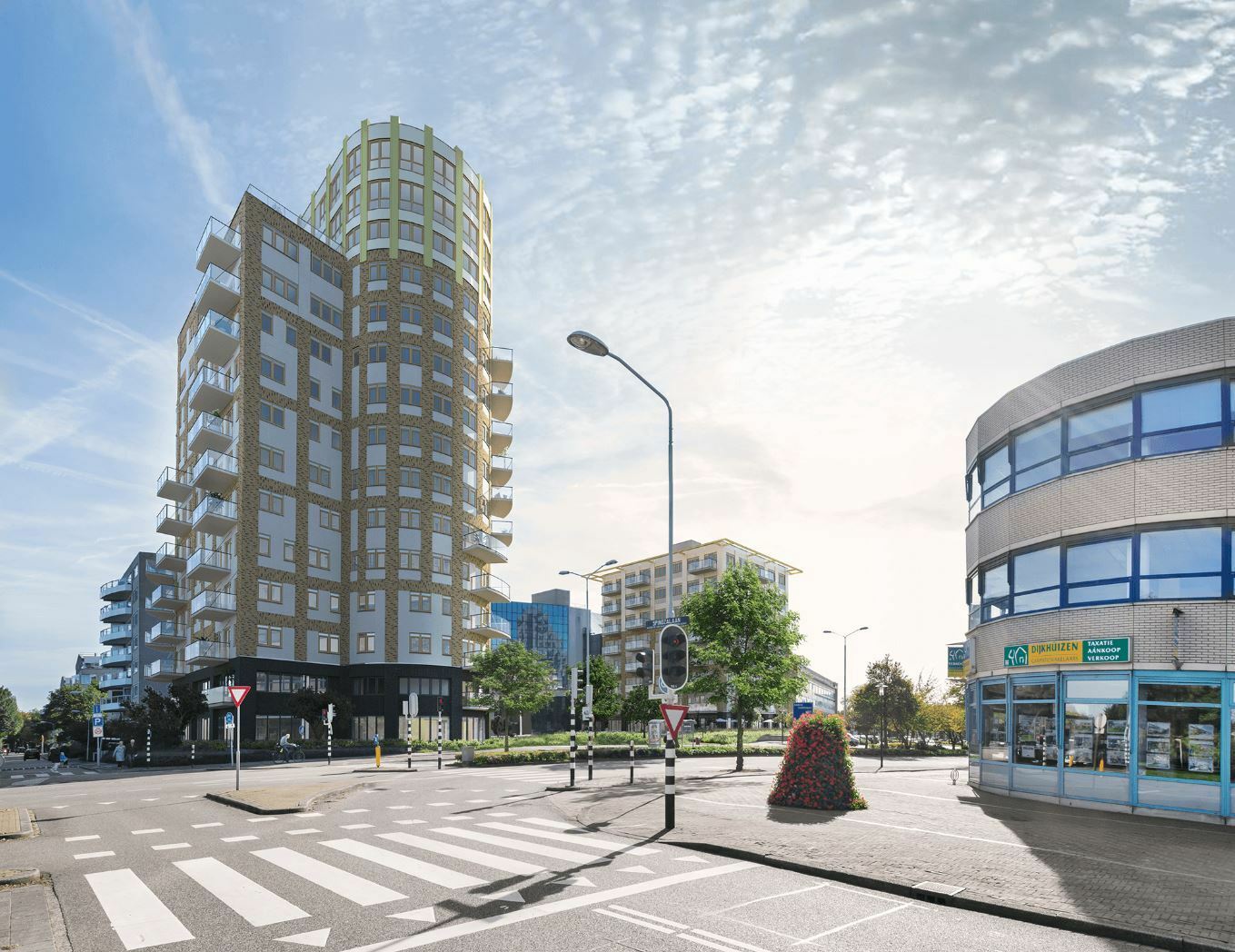 I am interested, where do I register?
You can register for free via the button below. Registration for living at the Kleine Feith and Grote Feith will remain 100% free.


The conditions for living at Burgemeester Feithplein are as follows
Basically you should have a gross income of at least € 3,940 or a joint gross income of €5,380. Within your free profile we can look further for solutions by getting more details about your income or discussing other options.
Frequently asked questions
I am interested, what should I do?
Step 1: First of all, check further down in this FAQ if you meet the rental conditions. If you do not meet the conditions, unfortunately we cannot be of further service to you for this project.
Step 2: If you meet the conditions, make a start with your profile and choose and add your preferred property(s).
Step 3: Keep an eye on your profile or your email inbox. We will start notifying you.
Step 4: In your housing file, you can add to or change your personal information/preferences. After a rental proposal, you are expected to provide documents.
De Kleine Feith is 100% rented
The project consists of two towers. The Kleine Feith and the Grote Feith. Of which the Small Feith was 100% leased in June. The offer of the Great Feith you can view online or come easily to the Open houses.
Where can I find information on the latest developments?
For the latest news go to docs.verhuurtbeter.nl
Is this project new construction?
The apartments in the Grote Feith are transformational homes. Previously, this was an office building that was converted to apartments. So there will be small differences in the same housing types (layout).
Will the apartments be delivered unfurnished?
Not quite, the walls are finished in a nice neutral color RAL 9001 but the floor will be delivered bare. You can put in a removable floor of your choice, if you want to take it with you after renting, this is of course easier. The kitchen is fully finished including Siemens appliances. The shower is tiled and fully finished with matching sanitary ware.
Are the apartments on all floors the same?
Because they are transformation homes there may be small differences. There are many similarities between the apartments on other floors. You can see the floor plans and top view of the apartments on our website.
Where can I view the offerings online?
See verhuurtbeter.nl/ aanbod. There you will find all the showcases. Also be sure to take a look through the 3d Tours. This gives a good impression of the house, because you can walk through it yourself digitally. Go to www.verhuurtbeter.nl/aanbod/voorburg
Will there be more Open House viewing moments?
Yes, there will be an Open House for the Great Feith on August 6, 2021 from 2:00 pm to 4:00 pm. You are welcome without an appointment. You can also make an appointment for Fridays between 12.00 and 14.00 hours. Due to security reasons, it is now only allowed by appointment. Ask your question and indicate this within your profile or call directly to service management, 088 308 10 91
What do I need to take into account during an Open House?
Because work is still taking place, it is mandatory to wear sturdy shoes, you may not enter the construction site. You are requested to wait at the bus stop (located at the front of the Grote Feith). There you will be received and you will get a helmet from our colleague. Do you see anyone? Please be patient, it may be that someone is still on his way.
I am already a tenant, can I come visit?
Yes, you can make an appointment! At the next viewing moment you are welcome. We mail these moments in time so you are well informed. We understand that you like to get a feeling with the house. Let us know via Your Profile > Messages that you are interested in a viewing.
Why can I register for free?
In this case, the property manager has determined that signing up for prospective tenants is free. Therefore, registration is also done via the specially designed platform feithplein.verhuurtbeter.nl. Signing up on our own supply page verhuurtbeter.nl/offer differs in price because this way you are eligible for our entire offer instead of just the houses on the Burgemeester Feithplein. By the way, you can always start for free.
Can parents or third parties act as guarantors if the income requirements are not met?
Yes, guarantees from parents or third parties are certainly possible. You can indicate this in your profile.
For a rent of €1,200 per month I need to earn almost €5,000?
This is based on our rental budget calculation module. This means that the rental budget must be four times higher than the monthly rent. This is a proven model which gives a good guideline in practice. In combination with our system and working method, we look beyond this guideline. Think about discussing your financial situation for context or extra contribution in guarantee or security deposit.
Is your budget not sufficient or in doubt?
Then contact us via your Message Center. Then together we will look for a solution. Think about discussing your financial situation for context or extra contribution in guarantee or security.
Can I apply for rent subsidy?
No, the properties are rented in the free sector. It is not possible to apply for rent allowance. We had 1 property in particular returned to us by the old landlord, at the time this was indeed a social rental property
Are there any additional costs?
With the offer we neatly mention all the costs you can expect. For example, we talk about a basic rent of € 1,350. In addition there are monthly service costs of € 57, heating costs of € 125 and a parking space of € 82 per month.
What about costs for heating, water and internet?
Heating costs are not included in the rent. You pay an advance for heating costs which includes electricity and heat pump.
You are responsible for water supply, which means that you have your own water meter in the house. For Voorburg, Dunea is the water supplier.
Internet access is available (KPN and Ziggo), but you must provide a switch or connection. Keep in mind the starting dates.
What are the plans for the commercial space on the first floor?
This is being leased by Local Joe. The plans are for a commercial space and unfortunately no details yet.
Is there a parking garage and bike storage?
Yes, these are located underground. The entrance is on the park side. See docs.verhuurtbeter.nl
Parking
Renting a parking space is mandatory. You rent a parking space in the underground parking garage. The additional costs of the parking space are € 75,- (and € 7,- service costs) per month.
Can I still change the built-in appliances?
No, the chosen finish and materials can be seen in the brochure. The homes are delivered and rented in unison. View the brochure here
Meet apartment 246
Recently you have shown interest in the new construction project Feithplein in Voorburg. This brings you one step closer to a luxuriously finished rental home near the center of The Hague.
Do you wish for an extra bedroom or just a quiet home office? All this is possible in this beautiful 3-room apartment of 81 m2. On the seventh floor you have a beautiful view from your balcony on the private courtyard of Feithplein, a place where you can relax. In addition, the apartment by the round shape a unique and playful look and lots of light comes through the large windows. Finally, the apartment has a parking space and external storage in the garage.
Watch the 3D tour for a cool impression